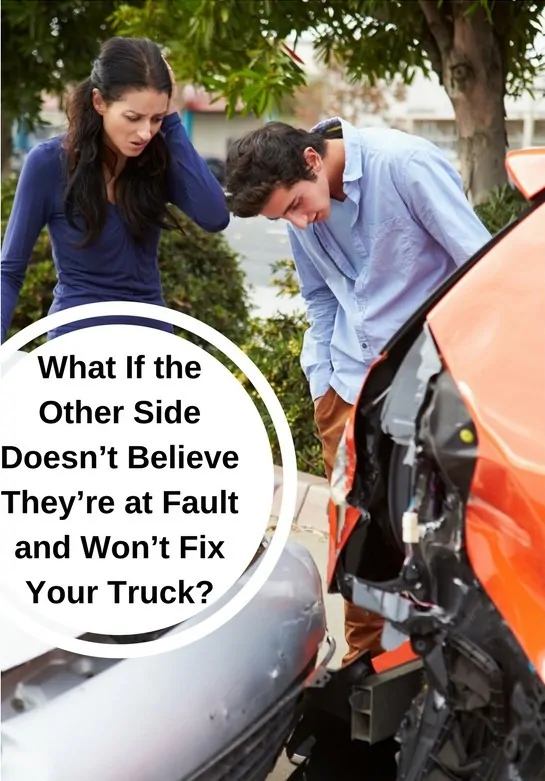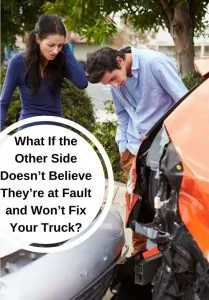 Every Case has two steps: 1 – Proving liability (the other side is a fault), and 2 – Proving damages (your losses). If the other side doesn't believe they are responsible, they aren't going to pay for your repairs. In order to get rolling again, you might consider paying for your own repairs or filing a claim with your own insurance company for your equipment's damages.  Once repaired and back on the road, you can proceed against the other side for your downtime and any repairs and out of pocket expenses that your own insurance company didn't pay.  If the adverse doesn't believe that are at fault, it will be important for you and your insurance company to prove that they were at fault. Proving liability may include you doing the following:
Take pictures of the scene of the accident, as well as your truck and theirs.
Preserve dash cam footage.
Get names and contact information of eye witnesses.
Find out if the other party was cited and what happened with that ticket.
Hire an accident re-constructionist to prove how the accident happened.
As an owner-operator, you have rights which vary from state to state. While this article does not give any legal advice, you do have the right to speak with an attorney about your downtime claim.  With the proper actions and attention to detail, it is possible to collect your compensation. We can help you with this. Call us at (904) 278-7688 for a free consultation.
The information provided on this site is general in nature and is not legal advice. The hiring of a lawyer is an important decision that should not be based solely on advertisements. One of our goals is to assist you in making that decision by assuring that you know more about the law and the nature of legal issues which are of concern to you. Before you decide, ask us to send you free written information about our qualifications and experience.