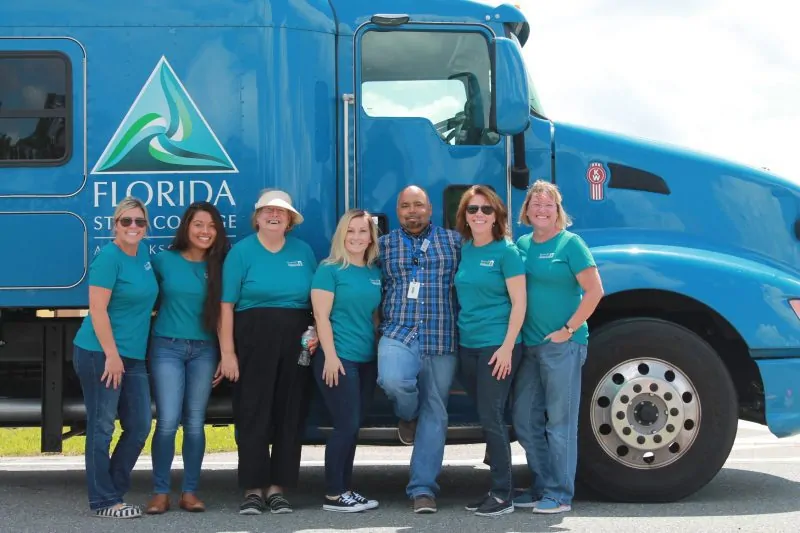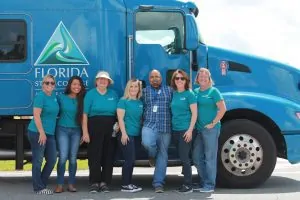 The staff of Eckert & Associates, P.A. visited the CDL training program at Florida State College at Jacksonville, Cecil Campus, this week.  We had the wonderful opportunity to meet Joe Lackey, the Instructional Program Manager. He gave us a guided tour of the facilities and a ride in a big rig.  We climbed into the trailer of a truck, as well as practiced our own driving skills in a high tech simulator.
Mr. Lackey was an abundance of information, providing us with an extensive Q & A session which allowed our staff to ask questions regarding DOT inspections, FMCSA issues, hours allowed for "work" and "driving", steps required to obtain a CDL, and many other topics. This was such a great learning experience for us. We deeply appreciate the time taken to help us get more familiar with these subjects.
Mr. Lackey introduced us to the program's trucks, driving us around the training track and through Cecil Field so we could get a first-hand feel for traveling in a tractor while pulling a trailer.  We now better understand how in-tuned to surroundings and cautious a driver must be at all times to drive a vehicle of this size.
Many of our staff were given the unique opportunity to take a spin in the driving simulator.  This equipment allows a student to get the experience of driving a semi-truck in a controlled and safe environment prior to going out on the road.  This for me was the highlight of the visit. I really enjoyed testing out the simulator and was excited for the rest of the ladies to try it out.
We are all very thankful to Mr. Lackey and his staff for giving us this amazing opportunity!  We hope to visit them again in the future for even more education on transportation topics. Keep an eye on our Facebook page for more photos from our trip to Florida State College at Jacksonville. If you would like to learn a bit more about their program you can visit them on their Facebook page here or at the FSCJ website here.